See my other research post relating to this assignment here.
My tutor suggested that I look at the work of Long Chin-San as research for this assignment. Long Chin-San was born in 1892, a photographic master who devoted his long life to the promotion of photography as a valid art form. Chin-San was the first photojournalist in China after the Shanghai news agency Eastern Times bought a colour printer and asked him to make use of it. Chin-San developed a compositing method which allowed him to combine images to make one singular image in the dark room and as he knew the six laws involved in ancient Chinese painting he combined elements of this practice with Western styles of photography to produce unique and beautiful composites. Chin-San's work is interesting to me with regards to this assignment because not only is his work constructed but it is also inspired and composed of ancient Chinese art – something which makes every one of his pieces utterly unique. I don't know how I haven't come across his work before as I find it really enjoyable to view and it is very inspiring also.
Some of Long Chin-San's work is clearly a composite and in other images it is not so obvious. What is obvious in all of the work is the traditional Chinese painting influences and in the nature photographs the trees and very oriental looking which immediately transported me to that area of the world. I am really inspired by all the images of his that I have seen.I like the simplicity that lots of his work has and the ethereal and spiritual style, I don't know how I would incorporate those techniques in to my own work at this stage as my Photoshop and camera skills are limited but I will be revisiting the work of Chin-San in the near future as I am greatly awed by him – the great master of Chinese photography.
I looked at the Staged Photography tag on Artsy.net for further inspiration which brought up 14,439 posts relating to staged photography. Here are a selection of my favourites and brief interpretations of them: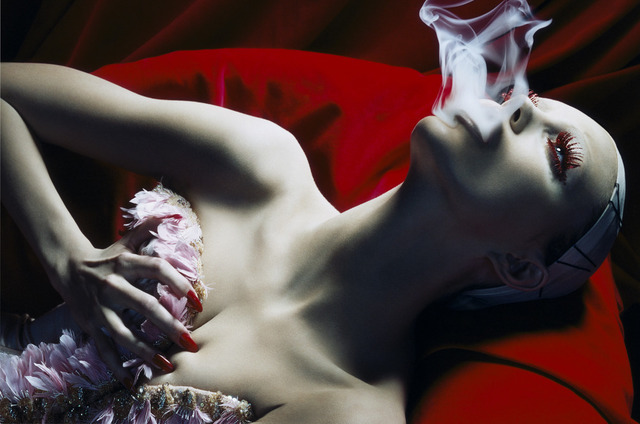 Before I research further I will bullet point key points that I notice without any further context:
Fashion photography style
Model – deathly pale, mannequin like except for the grip of the hand and the 'squishiness' of the breast
Specific lighting, bright and aimed at chest and part of face to highlight the cheeks and smoke and chest
StudIO set up
Red – danger, romance, seductive
Surreal
No hair on model, illness? Cancer? Again, mannequin like in appearance like Guy Bourdin's mannequins (here).
Miles Aldridge
Miles Aldridge, born 1964 in London. British fashion photographer, regular contributor for top fashion magazines since the early 90's, including Vogue Italia. His biography on Artsy.net describes Aldridge as a creator of a strange world populated by beautiful creatures in luxe, if artificially color-saturated, environments. The same text then adds that his imagery seems to capture an entire film in a single shot and can be likened to the work of directors David Lynch, Dario Argento, and Pedro Almodóvar. I very much agree with this. His imagery is like a movie still from a strange and erotic film in a freeze frame that seems to encapsulate a lot more than just the image of an actor/subject. His imagery is very evocative, surreal and movie like and it is of course very aesthetically appealing – if a little morbid.
Tom Chambers
The next photographer I found within the staged photography tag on Artsy.net was Tom Chambers.  From Lancaster, Pennsylvania which is Amish country, he completed a B.F.A. in 1985 from The Ringling School of Art,, Florida with a major in Graphic Design with elements of Photography.
Chambers uses photomontage to construct his images, adding different elements that do not necessarily belong together at that time or place and using Photoshop to make them look convincing. In an interview for the International Photography Awards in 2015 Chambers explained that he tries to create images that look "possible but improbable". Usually Chambers uses children as subject matter as they convey the vulnerability and strength which he is interested in portraying and cultivating in his imagery. Chambers work has similarities to classical paintings with its luminous qualities and dramatic compositions. Thework within his exhibition 'Reverie' has been likened to that of post-war painter Andrew Wyeth's Christina's World.
"As a fine art photographer I hope my work connects emotionally with the viewer and then inspires the viewer to take a new and different look at the everyday objects or more significant issues."  -Tom Chambers for IPA, 2015
On his website Chambers describes the process he uses to construct his images from start to finish. He will initially make a sketch of any ideas he has for an image and will then go on to photograph each piece of the photomontage. He explains that the most important aspect of the process is making sure that the intensity and direction of light are the same or similar in each shot and therefore it can take over a month to get the right number of usable shots. Finally he uses Photoshop to stitch all the pieces together to make the final image. The finish product is printed with archival pigment inks on cotton rag paper.
I am really inspired and intrigued by these photos as they seem magic in nature and yet they could almost be real life. There are no dragons or creatures that don't actually exist and though some may seem larger than life perspective in a photograph can be interchangeable and objects can appear very differently using different lenses and angles than they actually are in reality so from this respect Chamber's images could just about be real, at a stretch and I think that's what makes them so special. They are like childhood dreams and the vivid imagination one remember's from their youth.
In another series entitled To the Edge Chambers has added poetry in text form to add extra context to the work. The poem was written by Allen Chamberlain in response to the series of images and lines of the poem itself have thus been incorporated in to each image in the series. The pieces of each photomontage in the series were taken in Iceland and are a celebration of the diversity of the natural world (as defined by Chambers himself).
I find it interesting that the photos inspired the poet and not the other way around, although I suppose it is not unusual for a poet to be inspired by something he sees or otherwise senses. I like the fact that Chambers has taken this response to his work and added it to the work, as a a collaboration of sorts and this has added a new element to the series and more for the viewer to participate with and for them therefore to interpret.
Below are sketches relating to some of the ideas I had, some were just ideas that never came to fruition due to time or material constraints and others went on to become major players in the set.
Here are the contact sheets relating to this idea. I loved the shots but didn't feel they fit with the final set. They would belong better in a different series.
Second Shoot with more changes in light as the above images seemed a bit dark and dusky:
Film Stills Inspiration:
I have used a Tumblr blog to map some of my research trail with regard to fil stills. Many users on Tumblr have compiled groups of movie stills and posted them (and reblogged from one another). I found this a useful way to gain inspiration for my own movie stills series. Please see my reblogged inspirations here. Lots of the movies I am not familiar with which is useful as it means I can look at the collection of images objectively and see how they fit together in series. Lots of these collections/series are similar in colour and tone but interestingly, the subject matter doesn't seem to move in an obvious way which I was suprised about. I thought that the sequence of the film would be apparent in the stills, however there is a different narrative to the stills. Also, I came across sets of stills for movies that I had seen and not liked much and yet the series of stills were breathtaking and more full of feeling than I remember from the moving picture experience. I think in taking the still images out of context the meaning can be changed quite considerably and the artist that stitches some of these still images together in to some sort of sequence is creating another story which will definitely be interpreted in all sorts of ways unintended by the original movie creator/filmography.  I find this really fascinating and want to give it a go. I wondered whether to actually film some footage and then take stills from it but after shooting a little scene of me baking in the kitchen I realised that my DSLR doesn't have the best film quality and the stills weren't going to be very sharp. I also thought about making up a story for the imaginary film that the stills were to be taken from but I'm not a scriptwriter or practised in film so in the end I decided just to create a set of stills from a non existent Christmas indy-style movie in the style of other sets of movie stills I have seen, with plenty of mood and a cinematic style and see how I go from there. Other ideas include adding quotes, poetry, a hymn to the caption or description to accompany the imagery and I will experiment with all (see below).
Here are contact sheets from my third shoot when I'd decided to make some movie still type images:
Next are the first Christmas themed images taken in Movie Still style:
Next are the contact sheets showing the images using the mannequin prop I found that I thought looked like it was from a movie set. I used Christmas lights and tinsel to make her look Christmassy, setting the Christmas scene:
Next are more images playing with Christmas lights as subject matter. Still Christmas Movie Still themed:
Notes from a later date:
I have decided that my own Movie Stills series needs more context, simply taking photos of nostalgic Christmas scenes and calling them movie stills isn't meaningful enough. The next step is going to be finding some inspiration in either literature, art, theatre, music or other photography perhaps.
At an even later date:
Now that I have chosen my theme (a response to Sia's christmas tune 'Everyday is Christmas') it has become easier to shoot for it. Some of the successful Christmas themed 'movie stills' that I have shot already aren't going to fit with this new theme but I have shot several more that are really interesting and are making me really excited about my final set. I read several winter themed poems and the blurbs of some fictional winter/Christmas books and looked at a website that generates 6 word poems to find inspiration for my winter based ideas but it was when I thought of how I feel when I listen to this song that I decided that it was enough to inspire a set of intimate, nostalgic images.
The following contact sheets are a direct response to my main inspiration Sia's Everyday is Christmas. I used a model to signify a love interest, Christmas lights and red lipstick to add a movie stills Christmas theme:
Nathanial Dorsky – Stills from his silent films
Nathanial Dorsky, born 1943 in New York. An American Filmmaker
Dorsky's films are available only as 16mm film prints and have been exhibited in many venues internationally. I found Dorsky's work on Artnet under the Film Stills tag and the thumbnails from the search page really caught my eye and drew me in – I'd have loved to been able to watch one of the films but it seems they are currently only available at private showings.
The images are film stills taken from Dorsky's films and so therefore there intended use was primarily to be shown as moving image but now they have a new purpose. Knowing that they come from a film makes them more magical in my opinion as you can imagine the type of film that they came from – slow moving, silent, beautiful, moving, thought provoking. Of course I don't actually know much about the films themselves other than what is suggested at in the film stills and that which has been written by critics and in press releases.
There are lots of film stills on Dorksy's own website and the four I have posted below were taken from one his films The Dreamer, 2016:
I feel really personally inspired and motivated by these film stills as they are very connected with nature and I tend to fall in to that category myself within my own photography. The first image is the most 'film still' looking with its use of reflection – it feels transient, like we are between scenes – and perhaps we are. There is lots to look at in the frame and there is a mind bending quality yet the subject matter is mainly calm and summery. The statue hints a religious undertone. The second, third and fourth image in the series are more straightforward – they all feature plants and trees in a moving state with lots of silvery light, the wild flowers slightly lighter and the crab apple falling more dappled, leaning towards a more autumn light.
The fact that these were taken from a real film makes me enjoy them more because I am searching within the image for its meaning – what part of the film has this one been extracted from and what purpose did it have within the narrative? Although, according to those who have seen the films Dorsky's work didn't have a clear narrative, it was more of a gentle guiding and ultimately it is a journey made together with the viewer. In an interview for Artweek.com Dorsky explains this:
'When I start to build the film, it's really a question of finding an image which is like the door to the film: you present the doorway, then the welcome mat, and then you enter. From there, it isn't like, "I know where we're going, and I'm going to take you there." It's more like, "I don't know where we're going, and we're going to have this adventure." That's how the films are edited: there's a first shot, and then there's a question: where do we go from here?' – Nathanial Dorsky for Artweek.com
There is also an certain intimacy in the vast majority of the film stills, it seems that Dorsky was very creatively involved with all of his subject matter when filming, from the nature around to him to the people who made it in to his films. Even what appear to be complete strangers are filmed with a fondness and this could have something to do with Dorsky finding a similarity between himself and others that comes through in his films – in an interview with Artweek.com said  'Aloneness is a realization that everyone is in the same boat; that everyone is actually alone. We are all mutually alone.'
Not all film still style photo series's are actually taken from real films, such as Cindy Sherman's famous Untitled Film Stills series. I have looked at the work of Cindy Sherman before but not specifically her film stills work.
Cindy Sherman's Untitled Film Stills series is made up of 70 images in which Sherman takes on the female lead role by dressing up, using appropriate props and assuming the relevant character of. The roles included housewife, working girl, office girl, blonde bombshell etc.
'Like real movie stills Sherman's images evoke events in possible narratives which the viewer may invent or interpret in different ways, suggesting an original which never in fact existed.' – Tate.org.uk
I found this sentence really reassuring because until now I had been a bit doubtful about how seriously my series could be taken as it was pretending to be something that it is not. That is that I have been referring to my images as film stills when in reality there never actually was a film to take them from. I now feel as though this could actually make my work relevant but under a different light. As is usual for me I am interested in creating imagery that can be interpreted freely by the viewer with hints of narrative and I had thought that the lack of a material film might have taken the validity from the work but it might actually make it more open to interpretation and more interesting in some ways.
One of the underlying messages behind Sherman's series was to show that photography is not as honest as it might first appear, by assuming the identity of someone she was not she has proven that photography can allow people to be some body they are not and therefore it is not as trustworthy as first thought.
Evaluation
Please see my Assignment 5, Making it Up here before reading further.
I found this Assignment to be a lot more difficult than I had first imagined that it would be. I think perhaps it's because my expectations for myself are a lot higher than they used to be, at the beginning of C&N for example and so in pushing for a better result I am having to take more time to perfect and evaluate the work as I go. I felt that direction with this set was pretty difficult, I am used to just taking a bunch of images in a very spontaneous way, even if I have a specific topic in mind, without much thought for special lighting or other items in the frame so having to think about all of that and then examine the picture on the viewfinder to check for anything that didn't belong there was a new experience for me and one that I found quite time consuming. Ultimately though, the whole process was satisfying as I found it very rewarding when I finally had the images that I wanted.
Here are some snapshots of me setting up the scene and getting the props and lighting ready:
The series was shot in three locations, one was inside my house in the spare room, one was in my own bedroom and one was shot in my mother's living room. I feel that the locations didn't matter so much as the props and lighting that were used. Obviously each location had different light properties to consider before I began to add my own lighting but because of the close-up nature of the shots and the minimalist style it didn't matter too much about the surrounding area as most of the background was purposefully excluded anyway. The second image in the set was shot outside using a street Christmas tree, I was technically inside of my house at the time, perched on a low window seat with the camera held outside of the window. It was night time outside and therefore dark, with no moonlight, so that needed to be considered as it was the only photo of the set that was reliant on my own lighting and the artificial street lighting. The colour scheme for the set was considered also and from the final contact sheets of all the ideas I chose images with use of the same light, colour and tone. The set is supposed to be warm and cosy.
Next I will include a short break down of all props and lighting that were used:
Image 1
Technical: f/4.2, 1/60 sec, ISO-200, focal length 26mm
Lighting: On camera flash, artificial lights outside intentionally blurred so as to draw attention to forefront.
Props: After dark. Curtains are already there of course but they were parted carefully to show a triangle of black sky and the stars of outdoor Christmas lighting. Keeping a cosy indoors feel.
Image 2
Technical: f/5.6, 1/2 sec, ISO-800, focal length 55mm
Lighting: After dark. Bedroom light was turned on (standard LED bulb), shop wall Christmas tree had twinkling warm yellow lights on it, street had street lights, glow from the pub lights and windows and more Christmas lighting in the form of two white LED strings. I also used a small LED torch to help light the pine needles and so help the camera to take a non-blurry shot without use of a tripod because the tripod was not possible at that angle out of the window.
Props: Fixed position Christmas tree, fixed position lighting. Large aperture helped to keep distant lights soft and nondescript shapes in the background.
Image 3
Technical: f/5.6, 1/50 sec, ISO-2016, focal length 18mm
Lighting: Daytime. Curtains closed, not black out so allowing some soft daylight in. Bedroom light turned off. Light mainly from string of LED lights draped on subjects hair and a soft angled lamp, some soft lighting from a string of LED picture lights on opposite mirror.
Props: Model, red lipstick (adds Christmas colour and romantic tone), Christmas string lights in hair.
Image 4
Technical: f/5.6, 1/25 sec, ISO-2016, focal length 55mm
Lighting: Daytime. Curtains closed, not black out so allowing some soft daylight in. Bedroom light turned off. Light mainly from string of LED lights draped on subjects hair and a soft angled lamp, some soft lighting from a string of LED picture lights on opposite mirror.
Props: Model, Christmas string lights in hair.
Image 5
Technical: f/5.6, 1/20 sec, ISO-4000, focal length 55mm
Lighting: Dusk. Cottage shutters open, not much light coming in to room. Room light on, soft eco bulb with shade. Lighting primarily from white LED Christmas lights in crystal globes draped directly on the wooden horses back.
Props: Wooden painted rocking horse, white globe Christmas lights, pine wooden TV unit provides soft plain background keeping image flat.
Taking the shots took a lot longer than I had allowed for as there were lots of things that went wrong, such as the light not being strong enough, or soft enough or hitting the right areas. The props I had imagined looking a certain way and then it took along time to get them to hang right or sit right or light up in the correct way. Most of the images ended up being different to the plans but with the same concept. It went against my usual methods quite a lot as it is in my nature to work creatively and almost subconsciously without having much idea of what the end result will be. Most of the time this method does make me pretty anxious though as I'm never sure if I'll get a set that I really like whereas with this series I didn't stop until my goals were met, until I had the set, or a very similar set, made from the concepts which I had planned for.
Overall I'm really happy with the end result of my work for this assignment and I am pleased that I was able to plan and deliver without sacrificing any creativity. It will help me enormously for future assignments where I might have to work in this controlled manner.
References:
Long Chin-San
https://www.en.jimeiarles.com/chin-san-long/ (accessed on 18/12/2017)
http://photographyofchina.com/blog/lang-jingshan- (accessed on 18/12/2017)
https://onlinebrowsing.blogspot.co.uk/2011/07/chin-san-long-picture-in-painting.html (accessed on 18/12/2017)
Miles Aldridge
https://www.artsy.net/artist/miles-aldridge (accessed on 18/12/2017)
Tom Chambers
https://www.artsy.net/artist/tom-chambers (accessed 18/12/2017)
https://www.tomchambersphoto.com/biography/ (accessed 18/12/2017)
http://lenscratch.com/2011/03/success-stories-tom-chambers/ (accessed 18/12/2017)
https://www.photoawards.com/tom-chambers/ (accessed 18/12/2017)
http://modernbook.com/tomchambers.htm (accessed 18/12/2017)
Nathanial Dorsky
https://www.artweek.com/events/united-states/art-exhibition/new-york/nathaniel-dorsky-film-stills (accessed on 20/12/2017)
https://www.nytimes.com/2015/09/27/movies/for-nathaniel-dorsky-and-jerome-hiler-film-is-the-star.html (accessed on 20/12/2017)
http://cinema-scope.com/cinema-scope-magazine/interviews-the-inmost-leaf-an-interview-with-nathaniel-dorsky/ (accessed on 20/12/2017)
https://www.filmcomment.com/article/nathaniel-dorsky-heavenly-host/ (accessed on 20/12/2017)
http://nathanieldorsky.net/post/161307028933/elohim-two-film-stills (accessed on 20/12/2017)
http://www.artnet.com/galleries/peter-blum/nathaniel-dorsky-film-stills/ (accessed on 20/12/2017)
Cindy Sherman
https://www.moma.org/learn/moma_learning/cindy-sherman-untitled-film-stills-1977-80 (accessed on 20/12/2017)
http://www.tate.org.uk/art/artworks/sherman-untitled-film-still-48-p11518 (accessed on 20/12/2017)
http://100photos.time.com/photos/cindy-sherman-untitled-film-still-21 (accessed on 20/12/2017)
http://artlead.net/content/journal/modern-classics-cindy-sherman-untitled-film-stills/ (accessed on 20/12/2017)